Posted by RMA Electronics, Inc. on 14th Jul 2014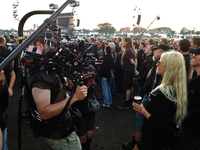 "Waken 3D - Louder Than Hell" is a 3D film documentary from the largest heavy metal band festival in the world - which happens to take place in Waken, a small village in Northern Germany where the most famous bands of the international heavy metal scene perform once a year at the legendary Wacken Rock Festival attracting almost 75,000 fans.

Kowa's JC10M series of 2/3" format 10 megapixel rated C-Mount lenses were chosen to film this production - with various focal lengths used on 16 different 3D cameras to capture the entire round-the-clock experience in real stereo 3D.

During the test phase, the Berlin-based S3D and high-speed rental company Tectum tested together with film production several suitable lenses for the production. In the end they decided to use Kowa's JC10M Series for the 3D production.

Christian Klimke of Tectum says: "We decided to use Kowa because they offer the best quality for C-mount lenses. We also compared the JC10M series with 16mm and 35mm PL mount lenses and the image quality of the JC10M series was better. Another factor in our decision was the small size and low weight of the Kowa lenses."
(Source: Kowa Europe)

For more information on "Waken 3D - Louder Than Hell".
For more information on Kowa lenses - including the JC10M series.