Posted by RMA Electronics, Inc. on 21st Apr 2015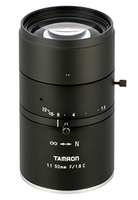 Tamron has introduced the first lens model in a new series of 1.1" format 12 megapixel rated C-Mount lenses. The M111FM50 is a 1.1" 50mm F1.8 manual iris C-Mount lens, locking screws for focus and iris, M49 x P0.75 filter thread, 12 megapixel rated. It will support cameras using imagers as small as a 3.1µm pixel pitch - providing a high level of resolution and performance.
Main Features
High Resolving Power

Industry-leading resolving power optimally tuned for 3.1µm pixel pitch 1.1" imagers renders high-fidelity images equivalent to 12MP resolution.

Image Quality Prioritized for Closer Distance Range

The superb image quality at the most commonly used closer distance range is achieved in line with the design philosophy that has been demonstrated in our current FA-series lenses.

Operational Ease

Smooth rotation torque of both focus and iris rings facilitates the adjustment of both focusing and aperture.

Sophisticated Optical Design to Deliver Distinguished Image Quality

Excellent image quality from center to corner is delivered based on the latest optical design technology with discernible resolution and contrast.
Enhanced transmissivity across the whole bandwidth is attained with Tamron's original coating technology.

Compatibility with Diversified Imagers

The17.6mm Effective Image Circle Diameter of the lens expands its compatibility with a broader range of cameras with multiple imager formats up to 1.1".
For additional product, pricing, and ordering information on M111FM50.