Posted by RMA Electronics, Inc. on 12th May 2015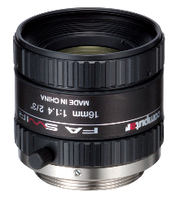 New Computar SWIR (Short Wave Infrared) type lenses from CBC America, Inc. are offered in 16mm, 25mm, 35mm, and 50mm focal lengths. These 2/3" format (for up to 12.3mm image circle) fixed focal length models are megapixel quality - yet very economically priced for various types of hyperspectral imaging.

These lenses are designed to operate in the 800-1700nm range, have locking screw feature for both focus and iris, and have M30.5 x P0.5 filter threads.

Here are links to product details, pricing, and ordering for each model:

Computar M1614-SW 16mm SWIR type
Computar M2514-SW 25mm SWIR type
Computar M3514-SW 35mm SWIR type
Computar M5018-SW 50mm SWIR type