Posted by RMA Electronics, Inc. on 19th Oct 2014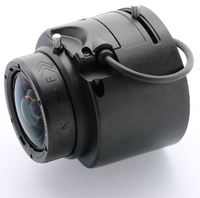 Fujinon (FujiFilm) has released model DV2.2X4.1SR4A-SA2L, a 1/1.8" format 4.1-9mm F1.6 DC auto-iris vari-focal CS-Mount lens, day/night, 6 megapixel rated. This lens addresses the demand for very high quality yet value-priced optics - particularly for wide angle security applications using larger HD camera sensors while achieving over 100° horizontal angle of view on a 1/1.8" sensor.

This 4.1-9mm lens is compatible and recommended for use with the Sony IMX178 and IMX226 sensors, for CS-Mount cameras. Although standard as DC auto-iris, the lens may also be ordered in a P-Iris version, as well as in other special motorized configurations.

Ordering and additional product details